Filling nasolabial folds Krakow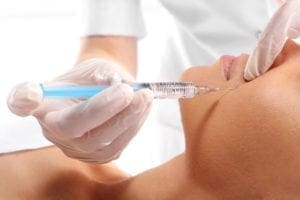 Nasolabial folds deepen with age, so everyone faces the necessity to reduce them. Home remedies for nasolabial folds such as firming cream, massages and facial exercises usually do not bring satisfactory results. Professional treatments for nasoabial folds, performed in the aesthetic medicine clinic are the most effective. The choice of method depends on the degree of folds depth. In the case of small nasolabial folds, without an accompanying fat roller around the furrows, filling the folds with hyaluronic acid can reduce their visibility. The effects of filling the nasolabial furrows with hyaluronic acid last several months.
When the folds are very deep and accompanied by sunken cheeks, then it is necessary to reduce the loss of firmness on the problematic parts of the face. Modelling the cheeks and lifting them up can be enough to reduce the visibility of the nasolabial folds. PDO threads enable nasolabial folds removal by cheek elevation and stimulation of collagen synthesis, which results in firming of the cheeks and changes in facial anatomy. PDO lifting threads provide an effect lasting up to two years. Another method for nasolabial folds reduction is filling and lifting the cheeks with hyaluronic acid.