Cavitation peeling Krakow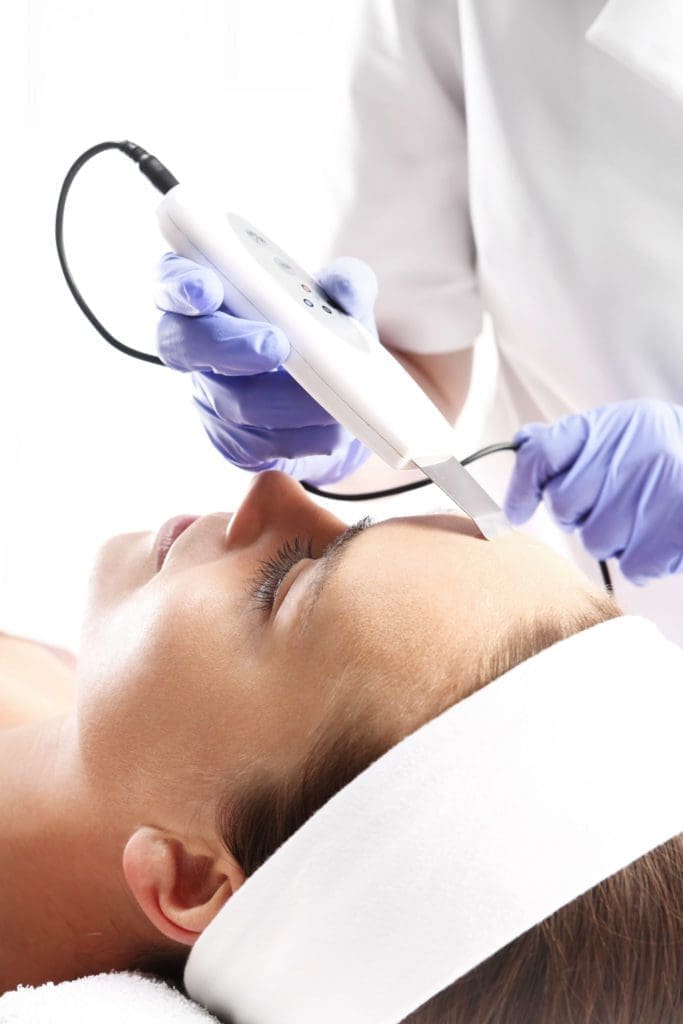 Cavitation peeling is a non-invasive, painless method of deep cleansing of the face, cleavage and back. This is an excellent alternative to manual facial cleansing, as well as advanced cleansing treatments that require longer skin regeneration. Cavitation peeling is a cocktail procedure that can be done before a special occasion, without the need for convalescence.
What is cavitation peeling?
Skin cleansing treatment with the use of cavitation peeling consists in the application of ultrasonic waves, which cause cavitation in the aquatic environment. Cavitation occurs with the formation of gas bubbles in the liquid (water or moisturizing tonic). Gas bubbles break, leading to the removal of dead skin cells and their effective exfoliation. Cavitation peeling works on the surface of the skin, exfoliating only the surface layers of the epidermis.
It is possible to remove dead skin, unblock pores and remove blackheads thanks to cavitation. Cavitation peeling also provides the effect of hydration and smoothing the skin, improves skin oxygenation and nutrition, stimulates microcirculation of blood in the skin.
Cavitation peeling – indications for treatment
Peeling kawitacyjny wykonać można na skórze każdego rodzaju, jest to zatem zabieg uniwersalny. Takie oczyszczanie skóry doskonale sprawdzi się w przypadku cery przetłuszczającej się, trądzikowej, mieszanej, wrażliwej i naczynkowej. Peeling kawitacyjny może być wykonany także w przypadku cery ziemistej, poszarzałej, pozbawionej kolorytu i blasku, a także dotkniętej wiotkością i pierwszymi zmarszczkami. Zabieg peelingu kawitacyjnego warto wykonać w celu:
oczyszczania skóry z zaskórników
usuwania zrogowaciałego naskórka
normalizacji wydzielania sebum
poprawy mikrokrążenia krwi
usprawnienia procesów odnowy komórkowej w skórze
nawilżenia skóry
wygładzenia skóry
zregenerowania skóry
złagodzenia zmian trądzikowych
zwiększenia możliwości absorpcyjnych skóry wobec związków aktywnych dostarczanych w preparatach odżywczych
Cavitation peeling – a description of the procedure
The treatment of cavitation peeling takes about several dozen minutes, and it is best to show up without make-up for the procedure. How does cavitation peeling work? Step-by-step treatment is as follows:
the skin is cleansed of surface impurities
the skin is treated with a non-alcoholic tonic or saline
a special type of spatula is applied to the skin, which emits ultrasonic frequency oscillations; micro-massage of the skin is performed by changing the position of the spatula
cavitation peeling treatment usually ends with the application of a nutritional mask
Cavitation peeling is a painless and pleasant treatment, after the treatment the skin may be slightly red, but this symptom quickly disappears spontaneously.
Cavitation peeling – recommendations after the procedure
The treatment of cavitation peeling is a safe and minimally invasive procedure. You should avoid using the pool, sauna or sunbathing every day. Do not apply makeup to the skin for 24 hours after the procedure. It is necessary to use UV filters for seven days following the treatment.
Cavitation peeling – the frequency of the treatment
The single execution of cavitation peeling brings a spectacular effect of skin cleansing and refreshing. However, it is recommended to perform a series of treatments, and count on maintaining the effect of impeccably cleansed complexion. How often should cavitation peeling be performed? The best effects are achieved by repeating the surgery every 3 – 4 weeks. It is worth performing one treatment per month in order to sustain the effects.
Cavitation peeling – contraindications
Contraindications to perform cavitation peeling are above all:
pregnancy
cancer
cardiac pacemaker
metal implants
teeth braces
circulatory insufficiency
febrile states